Why a Harley Davidson Shovelhead?
Why a Harley Davidson Shovelhead?
If you really think about it, buying and driving a Harley Davidson Shovelhead is not really the most logical choice. In terms of technology, many other motorcycle brands and even Harley Davidson motorcycles are technically a lot better. If you compare the choice of materials and the techniques used and the tolerances of the parts of, for example, a Japanese motorcycle, then Harley Davidson will lose out in all areas. I have regularly looked at a Harley Davidson engine or a gearbox from the inside and if you measure a difference of 0.6mm in the height of the left and right crankshaft lower, then I can say that the Japanese motorcycles are quite a bit be made much more accurate.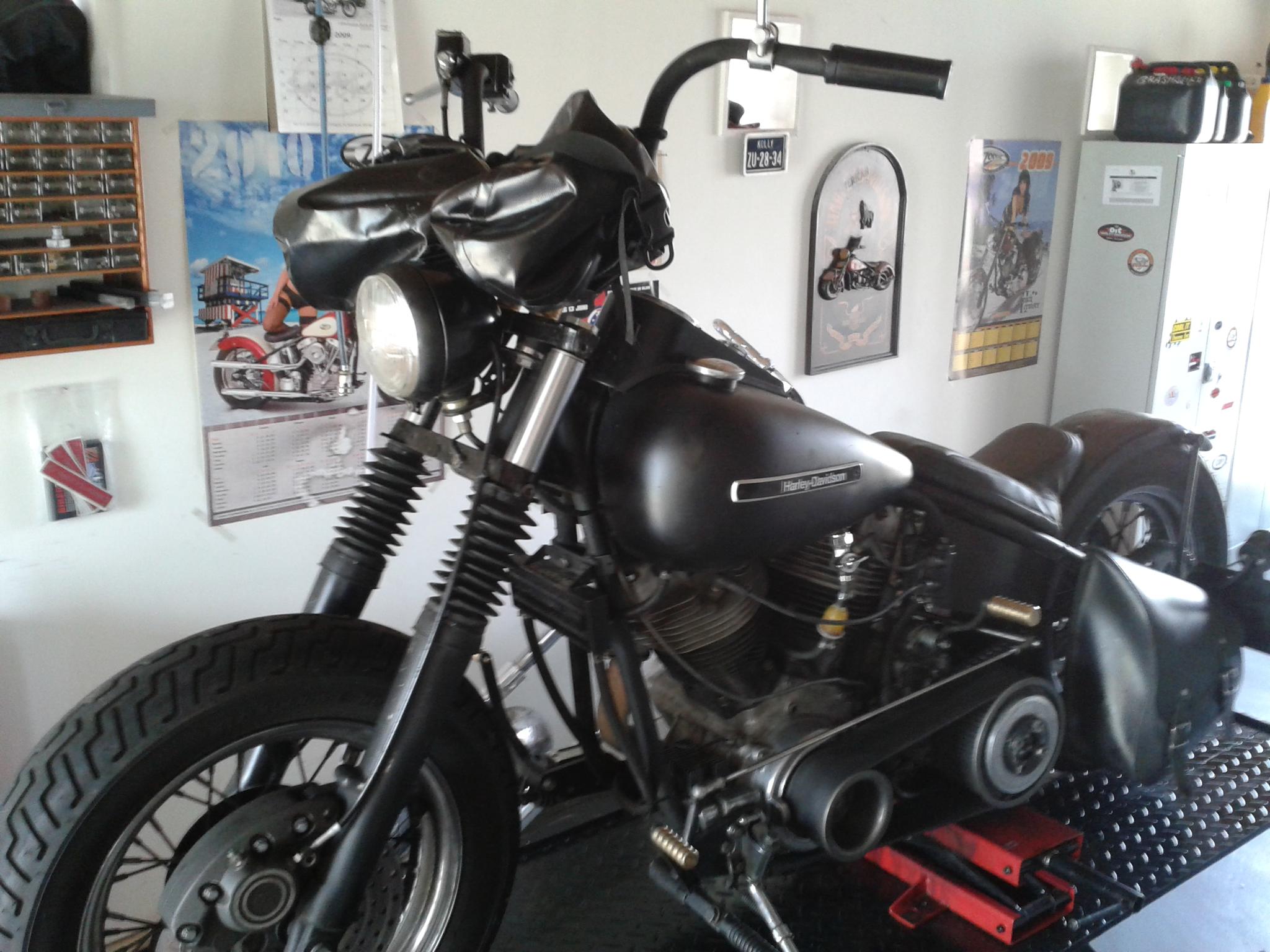 I myself am a huge fan of the pre 1985 models of Harley Davidson. And especially the models that Harley Davidson produced from 1966 to 1984:


Harley Davidson Shovelhead Motorcycles
The name Shovelhead has not been given by Harley Davidson to the motorcycles, but those were the American customers. The 2 heads of the engine block resemble 2 turned over shovels.


But why am I such a fan of these engine blocks and these engines?
Personally, I'm not that much into electronics and preferably not at all on a motorcycle. I like the pure, raw, mechanical technique the best. When I bought my Harley Davidson Shovelhead (1979) it had a starter motor on it. In addition to the starter motor itself, there was also a solenoid (electromagnet) and a starter relay to ensure that the starter motor could do its job. Unfortunately, it often happened that 1 of the 3 parts broke and I couldn't start my engine. Then the starter relay, solenoid and starter motor had to be replaced again.


Until I saw someone start their engine with the kick starter. Then right at home I got the starter motor, relay and solenoid from my morning and mounted a kickstarter on the gearbox. By using an older technique to mount my Shovelhead, kick starter instead of electric starter, my engine has become much more reliable.

My bike originally had rear suspension. So there was just a swingarm on it. By completely disassembling the engine, grinding the back of the frame and welding a new Hardtail frame piece, I now have a hardtail. A lot of people think that's weird. I've gone from a deluxe frame to a spartan frame. I think that's beautiful myself. I also switch gears differently. I clutch with my foot and I shift with my left hand. I also regularly get questions about this: "Isn't that very difficult?". My standard answer is always: "No, I clutch and shift like you do in your car, clutching with the foot and shifting by hand".


The recent models of Harley Davidson do not appeal to me at all. My engine has a carburetor. I can adjust this with a screwdriver. I don't need a laptop for this. I can also solve many problems at home and on the road with simple tools.


And that's what I like so much about those old engines. If you are a bit handy yourself, you can repair a lot of repairs yourself, even on the road. In addition, it is super easy and fun to change your motorcycle with custom motorcycle parts. You can make your bike the way you want it.


As a hobby that got out of hand, I started my webshop Kollies Parts in 2010. In this webshop you will find many parts that are specially made for Shovelhead motorcycles, but you can also find cool engine parts for other models and other brands of engines. Motorcycle clothing and motorcycle helmets are also available in the online shop of Kollies Parts.