Who is Kollie?
"I had some questions about the product and these were answered directly through the app. After payment the product sent directly by the company. Product meets all requirements and is as you wish and as illustrated. Overall, I am very satisfied and I will definitely order more products in the future."
André, 2015


"In very close consultation made a set of forward controls for my own costum Harley, the result is stunning. Clear agreements, good communication, fast delivery and well packaged. Absolute must for those who appreciate quality. Top business very pleased !!!!"
Robert, 2016


''Clear choice when ordering. Traject was easy to follow and very fast handling. Delivery. Super"
Rob, 2017


"Alles super, vielen Dank für alles .
Gerne wieder.
Liebe Grüße"
Thomas, 2018


"Clear website, quick response via chat to my questions so that I could order the right product at once.
Delivery was within the next day, top!"
JST, 2019


"Good, quality products. If you want to make sure you have something good, and not junk imported from China, this is the place to be."
Jordi, 2020


''They have everything you could possibly need for an HD or chopper project. And if you ask questions, you get answers from Kollie himself"
Hans, 2021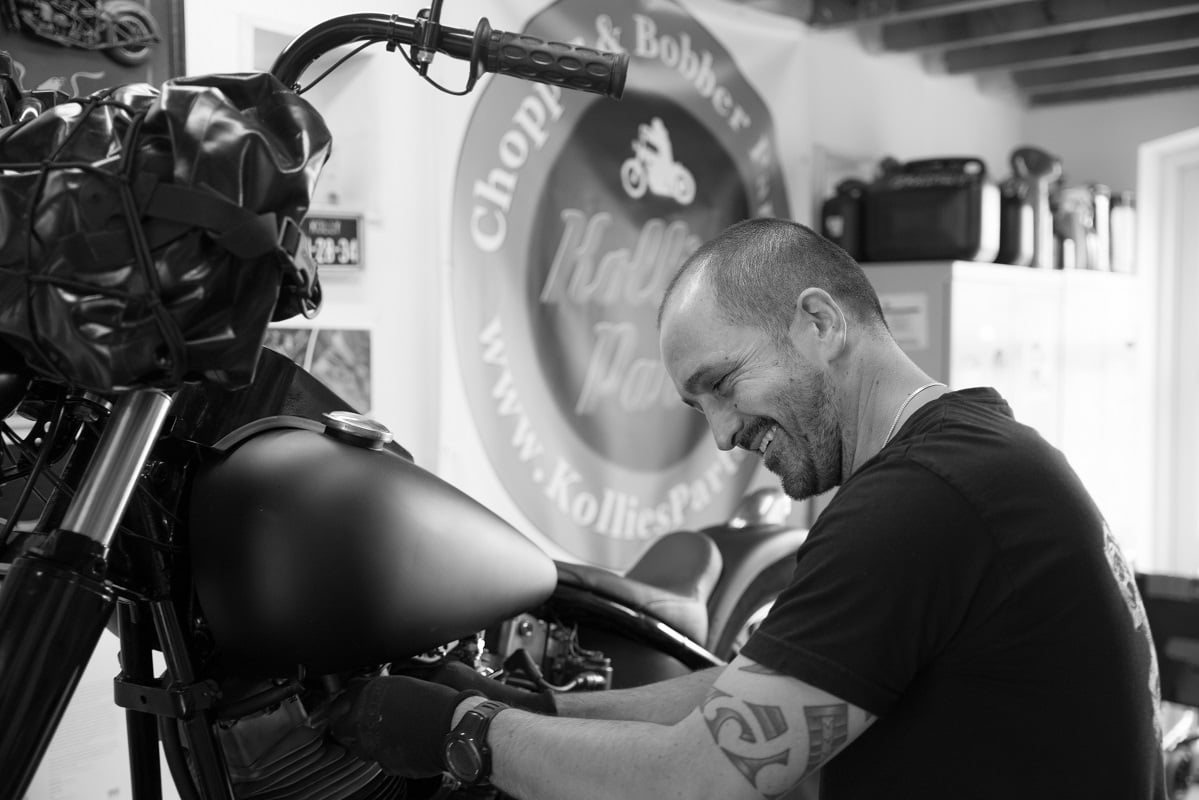 The beginning of Kollies Parts
When I was 17 years old, I was infected with the Harley Davidson virus. There was a group of Harley Davidson motorcycles passing through my village. I found this very powerful. A few years later from when I thought I could afford it, I have bought a 1977 Harley Davidson FLH Electra Glide 1200. At that time the Shovelhead had to run by spraying a highly flammable spray in the carburetor. The people surrounding me said I was mad that I bought an old bike for so much money while it was not even able to start.

After riding for about three months on the standard Shovelhead I visited Manitoe in Rijen (The Netherlands). Here I was infected with the customizing of motorcycles and the custom making of motorcycle parts. I rebuild my Harley Shovelhead in the DIY area. New fenders, a home made set of forward controls, a fool wide handlebars (120cm) and fitted the engine with the necessary powdercoating and new paint (green Grolsch in matt finish).

This was in 1997 and it is a long time ago. Since then I have been trained in CNC-turning/milling, 3D CAD CAM programmer and designer. I worked for very reputable companies, but my passion is really in motorcycles, the driving, repairing, custom making of chopper parts and bobber parts and contact with people with an idea to convert that idea into a product that they are more than satisfied.

Feel free to look if there is something for you in the webshop, and feel free to contact me to see if I can be of service to you.

Gerard (Kollie) Kolsteren